Finally, the solution to import your transactions. Convert CSV to QFX and import into Quicken 2018, 2017, 2016, (PC/Mac). Prepare transactions quickly in Excel and convert. Created QFX files are regular Web Connect files for Quicken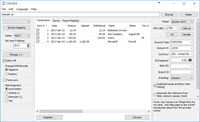 What can I do with CSV2QFX?
Download, install and run the software
Select a file with transactions
Review transactions and click Convert to create a QFX file
Import created file to Quicken
Why should I trust CSV2QFX?
It runs on your computer - no data leaves your computer
It does not send your transactions anywhere
Please check our product testimonials
If I need any help with conversion, can you help me?
Free support is available before and after the purchase
All license options include at least 14 days of the conversion support after the purchase
The Professional and Team licenses include ongoing conversion support
Please use the Support page or email us at support@propersoft.net.
Can I try before purchasing?
Yes. CSV2QFX is free to download and try.
Your file will be fully parsed in the trial mode, so you can verify that CSV2QFX understands your transactions file correctly.
You can create a fully functional and loadableQFX file before purchasing (with limitation to 10 transactions - this limitation is removed after you register).
Do you have a sample CSV file to help me started?
Yes. Please use the following CSV file. CSV2QFX can parse your CSV file much easier with expected column names.
---
Which Quicken version can import QFX (Web Connect) files?
The latest version of Quicken 2018 imports QFX (Web Connect) files. Earlier Quicken versions import QFX (Web Connect) files until they becomes three years old. For example, if right now year 2018 then Quicken 2016 is the earliest version that imports QFX (Web Connect) files.
---
How I should import a QFX file that CSV2QFX created under Quicken 2016+ (including Quicken 2018)?
Start Quicken and click File, then File Import, then Web Connect file.

On the import screen, select existing account or create new account.

Confirm the account is updated (one time).

Review your imported transactions (Done!).